# Recover Account
Waves.Exchange Online app, as well as downloadable standalone versions for Windows, Mac or Linux are available on the https://waves.exchange/ (opens new window) website.
Open your Waves.Exchange (opens new window) app and click Get Started.
In the Create password box type in the password, confirm it in the Confirm password box and click Continue.
Click Import accounts.
You can import as many accounts as you need if you want to use several accounts. Just repeat the steps described below for each import.
Click Seed or Key.
Note: You can also import accounts from the Ledger Nano and Waves Keeper.
Copy and paste or type in your seed phrase into the Seed phrase box or enter encoded seed in Encoded seed box or enter private key in Private key box. The Waves.Exchange app will automatically generate the corresponding address below the text field.
If you entered the correct SEED, it will display your Waves.Exchange address. If you are getting the correct address, click Continue.
In the window that opens specify new account name and click Continue.
You will be forwarded to the Waves.Exchange app user interface.
# How to pair accounts between devices
You can synchronize your accounts between mobile, desktop or online apps. To sync your account from the Waves.Exchange desktop or online app, click on the Account avatar at the top right corner. Then go to Settings > Security.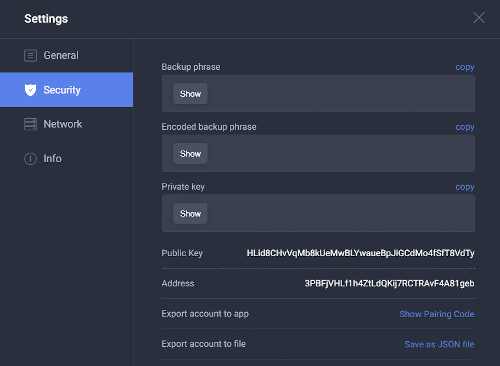 In the Export account to app box click Show Pairing Code.
Click Show to display QR-code. After that, open mobile app, go to Import account screen and tap Scan pairing code to scan the QR-code.
---
See more articles in the Account Management chapter.
If you have difficulties with Waves.Exchange, please create a support (opens new window) ticket or write a question on our forum (opens new window).