# Create Personal Alias
It is possible to specify an alias for a full WX Network wallet address to simplify user experience during token transfers and staking transactions. The cost of alias creation is 0.001 WAVES (the Tx fee).
An alias is a 4-30 characters-long string consisting of:
lowercase Latin letters
numbers
dots
underscores
hyphens
@
Please remember, created alias cannot be changed and removed from the WX Network address.
The creation of an alias is very straightforward;
Login to your WX Network (opens new window) account.
At the top right corner click on the account avatar and then click Aliases.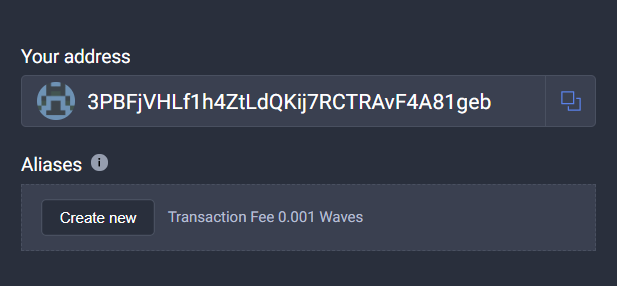 In the following windows click Create new.
Type in the name of the alias and click Create new again to complete the process.
Your alias should be ready to use as from the next block update.
---
See more articles in the Account Management chapter.
If you have difficulties with WX Network, please create a support (opens new window) ticket or write a question on our forum (opens new window).