# WX Referral Program
WX referral program allows to receive additional income in WX by attracting new users. Waves.Exchange rewards referrers and the referrals involved in the referral program.
To access Referral Program page, click your account avatar and then click Referral Program.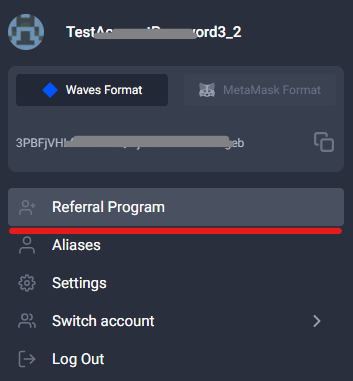 To participate in the program, invite new users by sharing your Referral Link.
To become your referral a user who followed your referral link should create new account or login to an existing account that does not have any incoming or outgoing transactions.
Referrals who stake WX and have more than 200 gWX when the rewards are distributed become active referrals and make 20% more WX staking income. This increment will be equally divided between the referral and referrer. For example, this will work if your referral stakes more than 200 WX for 4 years or more than 400 WX for 2 years.
The referral rewards are distributed weekly and can be claimed by clicking Claim on the Referral Program page.
# How to Get WX?