# Create Account
Waves.Exchange Online app, as well as downloadable standalone versions for Windows, Mac or Linux are available on the https://waves.exchange/ (opens new window) website. All the versions support automatic update!
Use one of the possible options to open your Waves.Exchange app.
Please take time to understand some important information for your own safety. We cannot recover your funds or freeze your account if you visit a phishing site or lose your backup phrase (aka SEED phrase). By continuing to use Waves.Exchange, you agree to accept all risks associated with the loss of your SEED, including but not limited to the inability to obtain your funds and dispose of them. You agree and acknowledge that Waves.Exchange is not responsible for the negative consequences of the SEED being lost or stolen.
Click Get Started to start the account creation process.
In the Create password box type in the password, confirm it in the Confirm password box and click Continue.
Click Create a new account. Select your address avatar and click Continue.
Select account name and click Continue to start using Waves.Exchange.
# Backing Up Seed Phrase
An important step is to backup your account.
Click on the account avatar and go to Settings > Security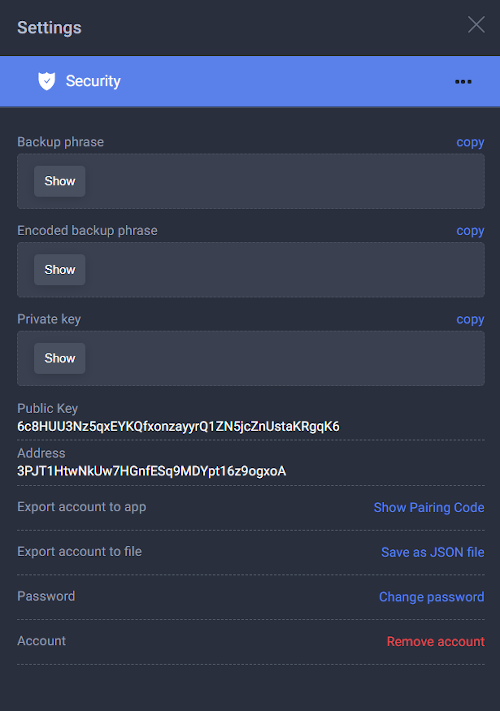 Note: Never provide your backup phrase to anyone except the official Waves.Exchange app. We recommend that you write the backup phrase on a piece of paper and store it in a secure location. Do not store the backup phrase unencrypted on any electronic device.
Click Show in the Backup phrase box.
After that the seed phrase will be displayed in the box.
Note: We strongly recommend creating the backup copy of the seed phrase, since this is the only way to restore access to your account in case of loss or theft of the device.
---
See more articles in the Account Management chapter.
If you have difficulties with Waves.Exchange, please create a support (opens new window) ticket or write a question on our forum (opens new window).